'Divine Meditations: Twenty Six Spiritual Qualities of the Bhagavad Gita' by Jenny Light
Published by Mantra Books, Jenny's new book is a spiritual workbook on becoming the 26 spiritual qualities, as detailed in chapter 16 of the Bhagavad Gita. Launched Jan 2019 on Amazon 11.99 paperback /£7.19 ebook, or as a signed copy directly from Jenny £11 plus P&P.
'Spirituality is a process of stripping away what you are not to reveal the divinity at our core. By embodying divine features, we realise our true Divine Nature within.' Jenny Light
'Living Lightly: a Journey through Chronic Fatigue Syndrome (M.E.)' by Jenny Light
Jenny's autobiographical self-help book 'Living Lightly', published by Ayni Books, is a journey to wellness from Chronic Fatigue Syndrome. She is an inspirational speaker on recovery from Chronic Fatigue Syndrome (M.E.) after she became ill with the condition in 2010 and left a career in teaching. Her journey back to health lead her on an inward discovery about the illness. The approach she teaches has five strands: meditation, self-healing, affirmation, personal growth and a raw food diet. Amazon £12.99 paperback/ £9.59 ebook, or directly from the author
£12 plus P&P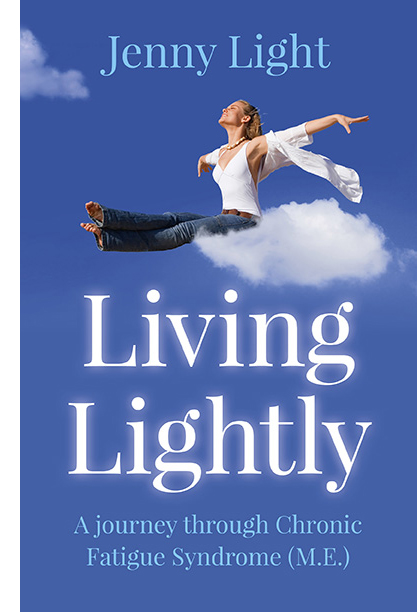 Jenny is currently working on her 3rd book: Taking Yoga Beyond the Mat. Due out 2021.